Dr. Wade Rinehart, PT, DPT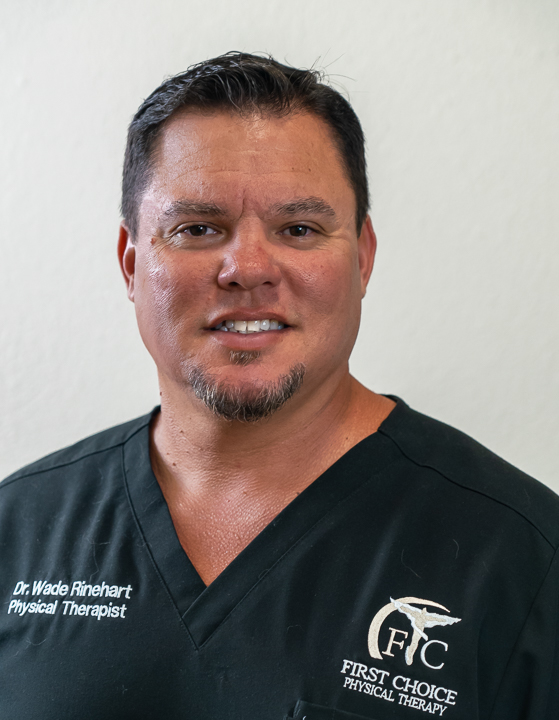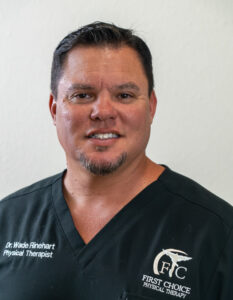 Dr. Wade Rinehart, PT, DPT first received his Master's Degree in Physical Therapy in 1999 and is a graduate of the University of St. Augustine for Health Sciences. He later returned to earn his Doctorate of Physical Therapy in 2009 from the same University and graduated with honors and a 4.0 GPA. His undergraduate work was performed at Florida State University where he also graduated with honors and a Bachelor's Degree in Nutrition and Fitness/Exercise Physiology.
Dr. Rinehart has spent his career in the outpatient orthopedic setting and is skilled and trained in Physical Therapy spinal joint manipulations. He is the areas only Doctor of Physical Therapy who owns his practice and is the Founder of MVP sports Enhancement.
His interests include spinal manipulations, headaches, TMJ dysfunction, and sports injury and training.
---
Dr. Brett Frank, PT, DPT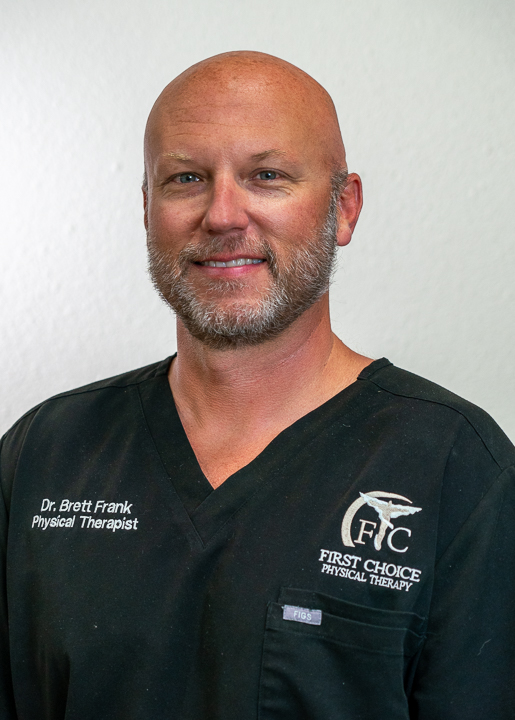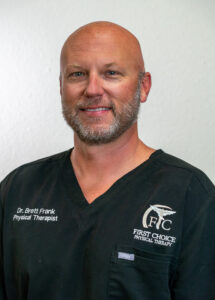 Dr. Brett Frank, PT, DPT is a 1998 graduate of the Florida A&M University School of Physical Therapy and earned his Doctorate in Physical Therapy from the University of South Florida in 2013. He has been with First Choice since 2003 and currently serves as our Chief Clinical Director.
Dr. Frank has spent his entire career in the orthopedic and sports rehabilitation field with extensive training in manual therapy and physical therapy spinal manipulations/mobilizations. He is also our resident expert in post-injury running as well as golf-specific rehabilitation/enhancement.
Dr. Frank honed his evaluation and rehabilitation skills by working with some of the top orthopedic surgeons in the southeast early in his career. He is a highly experienced Physical Therapist having treated a vast number of orthopedic diagnoses, both surgical and non-surgical with a specific focus on spine and SI joint dysfunction.
---
Dr. Brannon Chester, PT, DPT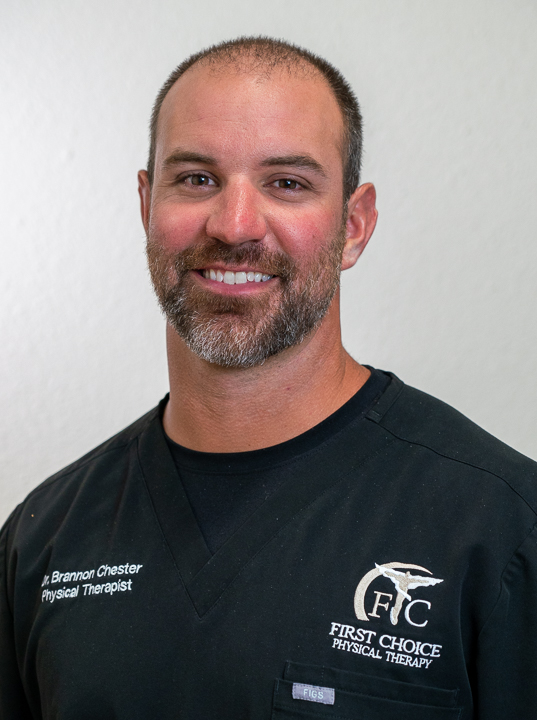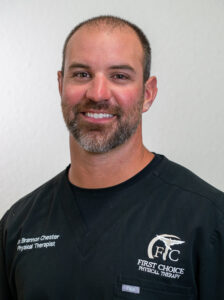 Dr. Brannon Chester, PT, DPT is a 2014 graduate from the University of Saint Augustine for Health Sciences Physical Therapy program. Dr. Chester also has a Bachelor's Degree in Exercise Science from the University of West Florida.
He is a former college baseball player and specializes in working with athletes, pre and post-surgery.
Dr. Chester studied under one of the top spine and SI joint therapists in the country and he is currently honing his skills in Physical Therapy spinal manipulations/mobilizations.
---
Dr. Johnny Gray, PT, DPT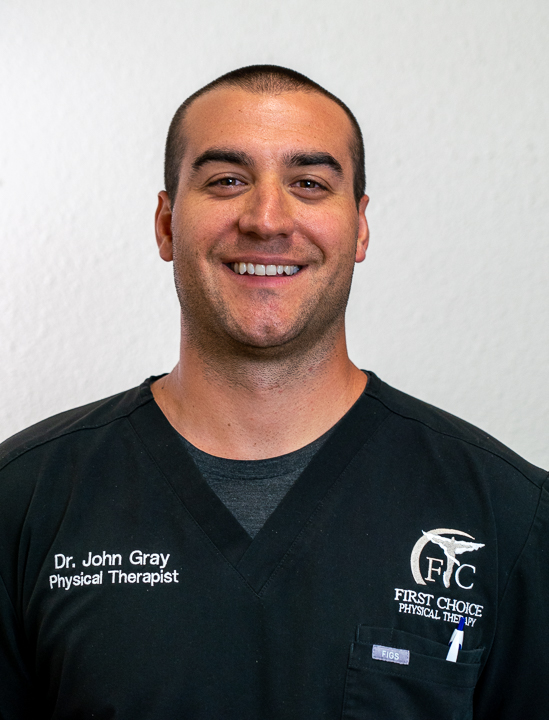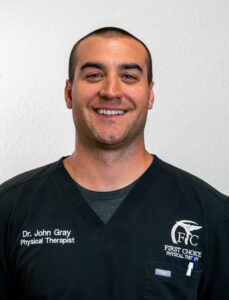 Dr. Johnny Gray found an interest in physical therapy in high school while he was a patient of Dr. Brett Frank's at our beach facility as he was rehabilitating from a shoulder injury that required surgery. After high school, he moved onto Troy University where he played football and received his Bachelor of Science degree in Sports and fitness management in 2013.
Along the way and few injuries later Johnny developed a passion for physical therapy and helping others like himself get back to the playing field. He attended the University Of South Florida's School Of Physical Therapy in Tampa where he received his Doctorate in 2016.
As a student intern for 16 weeks at First Choice Johnny trained under our staff and honed his orthopedic skills geared toward treating all orthopedic musculoskeletal conditions. He was brought on to join our team in the fall of 2016.
Currently, Johnny is working to specialize in spinal manipulation techniques, sports rehabilitation, and myofascial release techniques.
Johnny is a local, born and raised in Panama City where he attended Arnold high school. In his free time, he enjoys spending time with his wife who is also a PT and he loves hunting, fishing, anything sports-related, and being with his family and friends.
---
Dr. Ryan Bohn, PT, DPT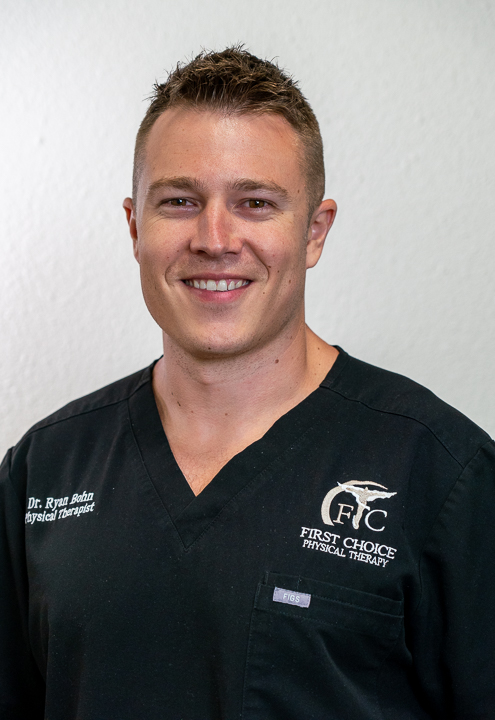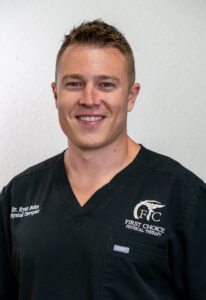 Born and raised in Minnesota, Dr. Ryan Bohn grew up enjoying downhill skiing, snowmobiling, and waterskiing. He received his Bachelor's Degree in Health and Human Performance at the University of St. Thomas in Minnesota and earned his Doctorate of Physical Therapy from Nova Southeastern University in Florida.
Dr. Bohn has experience in the acute care setting as well as in personal training. He enjoys working with a wide variety of patients and has a background working with a wide variety of clientele. This includes treating patients in the Intensive Care Unit all the way to high-level athletes. "It is a very rewarding career to be able to help a person work towards their goals and become the best version of themselves."
When not at the clinic, Ryan enjoys cycling, playing guitar with friends, and wake-surfing.
---
Dr. Luize Rossanez, PT, DPT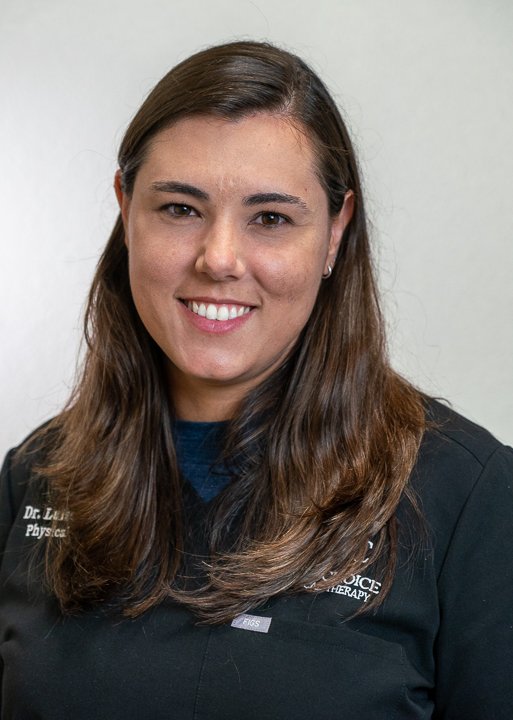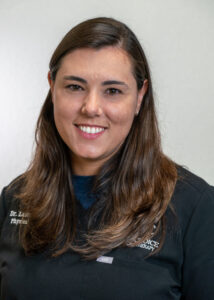 Dr. Luize Rossanez, PT, DPT, was born and raised in Sao Paulo, Brazil. She attended the University Center of Joao Pessoa, where she obtained her Bachelor's Degree in Physical Therapy. In 2010 she relocated to Jacksonville, FL, and in 2016 she graduated from the University of St. Augustine for Health Sciences with her Doctorate in Physical Therapy.
Dr. Rossanez began her physical therapy career in Brazil, where she treated patients using aquatic physical therapy. After earning her Doctorate, she had the opportunity to work in the outpatient setting treating patients with orthopedic conditions as well as balance and vestibular disorders. Her goal is to specialize in balance and vestibular rehabilitation while continuing to improve her skills in orthopedic manual therapy.
Luize relocated to Panama City in 2020 to join the First Choice Physical Therapy team. In her time off, she enjoys paddle boarding, mountain biking, the beach, and spending time with family.
---
Dr. Brooke Marshall, PT, DPT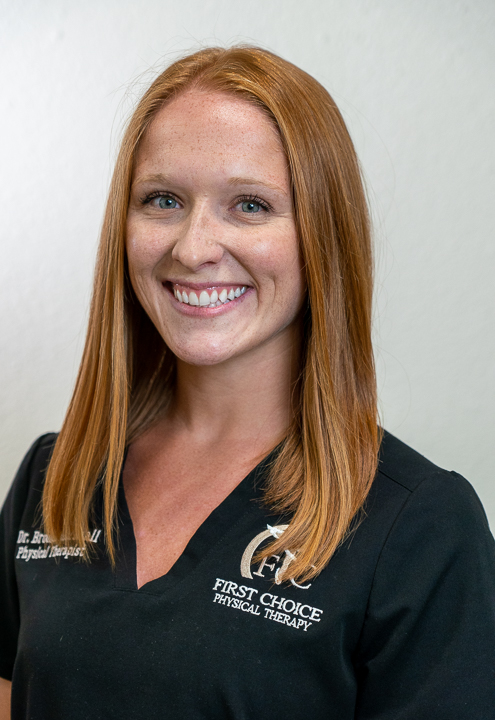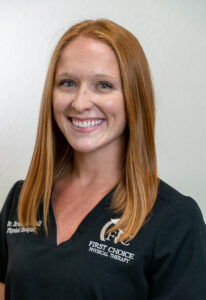 Brooke is a Lynn Haven native and graduated from A. Crawford Mosley High School in 2013 where she played soccer and softball. In her free time, she enjoys spending time with her family and husband, fishing, golfing, cooking, and being outdoors.
Ever since high school, she knew she wanted to be a physical therapist as her mother, Beth Wilke, is also a physical therapist. From then on, she went to Florida State University to obtain her Bachelor's in Exercise Physiology in 2016. Prior to beginning physical therapy school, Brooke worked with us at First Choice Physical Therapy as a therapy technician. She then attended the University of North Florida where she received her Doctorate in Physical Therapy in 2020.
Currently, she aims to improve her manual therapy skills with a focus on soft tissue and joint mobilizations as well as focus on injury prevention and return to sports programs.
---
Dr. Ali Henderson, PT, DPT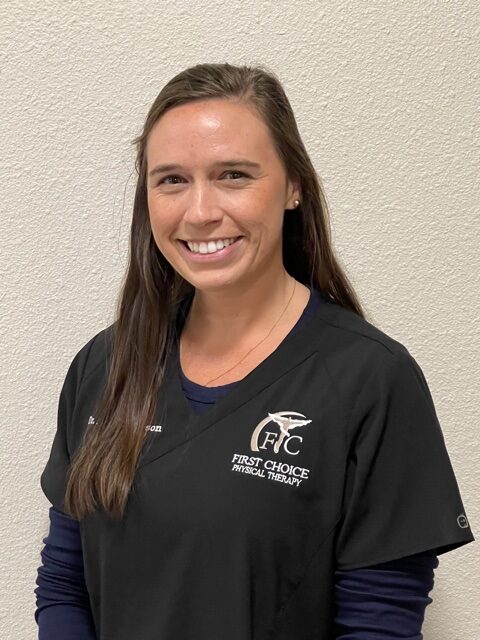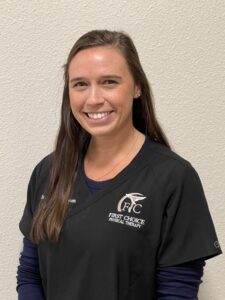 Ali was born and raised in Fort Walton Beach, Florida where she played soccer and ran track for her high school. Her involvement in sports led her to her passion for physical therapy. In 2016, she earned her bachelor's degree in exercise science from the University of West Florida. She then attended the University of St. Augustine for Health Sciences where she graduated with her doctorate in physical therapy. Ali has a passion for orthopedics and plans to continue improving her skills in manual therapy and myofascial release.
Ali loves calling Northwest Florida her home and enjoys being outside in the warm weather. She loves spending time with her family and friends, paddle boarding, and playing with her Boxer puppy.
---
Maggie Garbiec, PTA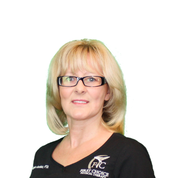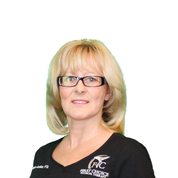 Maggie Garbiec, PTA is an honor graduate of the 2009 Gulf Coast Physical Therapist Assistant Program with the "Outstanding Physical Therapist Assistant Student Award".
Prior to her career as a PTA, Maggie graduated from Silesian University in Poland with a Master of Arts Degree majoring in Polish Language and Literature. After graduation, she worked as a teacher and a newspaper editor in her native country. Currently, she is interested in expanding her knowledge and experience in orthopedic therapy techniques, focusing on the clinical application of myofascial manipulation. Maggie is a Credentialed Clinical Instructor certified by APTA.
She is an advocate for outdoor physical activities such as biking, hiking, kayaking, and boating.
---
Lauren Dupree, PTA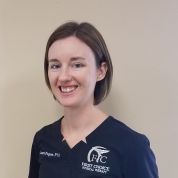 Growing up with a sister who was born with arthrogryposis, a disorder involving multiple joint contractures, Lauren Dupree was exposed to the career of being a physical therapist assistant at a young age.
She watched how extensive physical therapy played a big role in her sister learning to walk with the help of a walker and orthotics.
That, coupled with an urge to have a career that truly made a difference in the lives of others prompted Lauren to obtain her Associate of Science Degree (AS) in Physical Therapy Assistant in 2013 at Gulf Coast State College, Panama City.
Previously she received her Bachelor of Science Degree in Marketing and Minor in Communication in 2009 from Florida State University, Tallahassee, FL.
She spent the next three years working with physical therapy and rehabilitation firms until 2016 when she joined First Choice Physical Therapy, working out of the Lynn Haven clinic.
When she is not working she enjoys spending time with her husband Michael and their sons, Noah and Kaleb. She also likes to attend the Lynn Haven United Methodist Church and enjoys playing tennis.
---
Brandon Hoover, PTA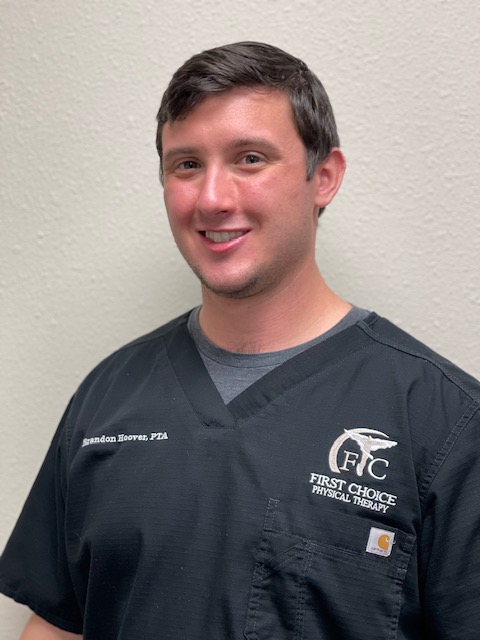 Brandon was born and raised here in Panama City Beach and graduated from North Bay Haven Charter Academy in 2014.  In his youth, he had an unfortunate accident that lead to 6 knee and 4 ankle surgeries.  During that time he received his fair share of therapy and during that period realized how amazing it would be to be the person who supports and gives their time and energy to someone to make them better.  This passion is what drove Brandon to become a Physical Therapist Assistant. He has a passion for helping others and through therapy, he is able to pursue that passion.  He graduated from Gulf Coast State College with an Associate of Science in Physical Therapist Assistant in 2020.  Brandon has an interest in myofascial techniques and neurological rehab as well as a special interest in working with amputees and their prosthetics.  In his free time, he enjoys working out, carpentry and camping.
---
Carrie Seiler, PTA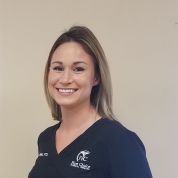 Carrie was born and raised in Lynn Haven, FL, and graduated from Mosley High School in 2009.  As an avid soccer player throughout her childhood and teenage years, Carrie sustained several knee injuries. This led her to discover her love of a different "field"…the field of physical therapy!
Carrie attended Gulf Coast State College and graduated from the Physical Therapist Assistant program in 2015. She is currently finishing up her Bachelor's of Science in Health Science at the University of West Florida.
Before joining First Choice in April 2019, she spent 4 years in Tampa with her husband who was stationed at MacDill Air Force Base. Carrie has worked exclusively in outpatient and loves being challenged by the variety of patients and diagnoses in this setting.
Carrie is currently working to enhance her manual therapy skills and further her knowledge of spinal rehabilitation. She also has a special interest in sports rehab with a focus on knee and foot injuries, as well as running biomechanics.
In her spare time, Carrie loves being outdoors, running, and spending time with her husband and family.
---
Brady Schwab, PTA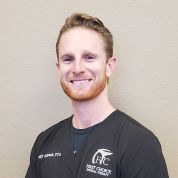 Brady was born and raised here in Bay County in Panama City Beach, played sports all his life, and did exceptionally well at basketball. If you are a hometown native yourself you may already know him! Currently, he is working at our Hutchison Blvd clinic.
Brady is a Navy veteran with 4 years in the service from 09-13. When he returned home he went back to school in 2015. He chose PTA because of an interest in anatomy, sports, and helping people. We are very glad to have him on our team.
Married for 7 years, he and his wife have 4 children
---
Zac Conn, PTA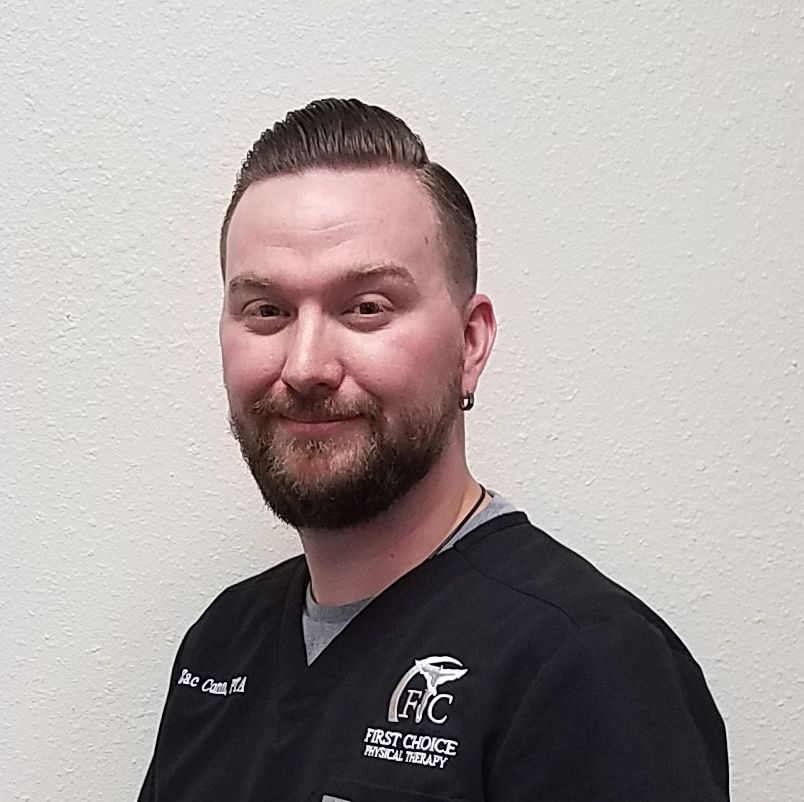 Raised right here in the Panhandle, Zac is a local and graduated from Bay High School class of 2012. He graduated from the Gulf Coast State College PTA program in 2019 with high honors and was also chosen to be on the All-Florida Academic Team, one of 143 of the top students in the entire state of Florida recognized for their academic achievement.
He chose Physical Therapy because he has always had a passion to help people, and takes care of his disabled father who suffers from conditions that cause him chronic pain, so he knows firsthand how pain can affect someone's life. He has worked in both inpatient and outpatient settings.
Zac believes in making therapy a fun and welcoming experience, and that every patient should be treated with the best amount of care possible! He is also a Corrective Exercise Specialist certified by the National Academy of Sports Medicine and has special interests in vestibular rehabilitation and manual therapy techniques.
When he's not working, he enjoys traveling, running, kayaking, reading, playing chess, and spending time with family.