There are times where physical therapy is the best option. Better than surgery. Better than pain medication. We believe we are the Best Physical Therapy company in Bay County. If you want to get off pain medication or are attempting to avoid surgery, please come see us at First Choice Physical Therapy.
When you are Ready To Get Better we are here for you!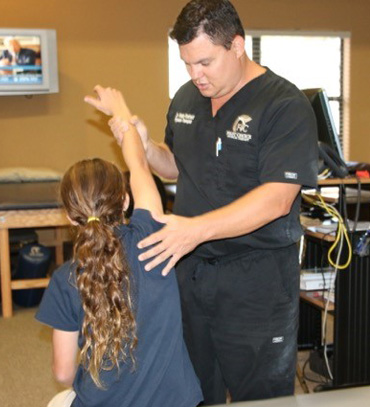 Whether you are a professional or youth athlete, a weekend warrior, or an everyday person suffering from illness or injury, you will be in great hands with the doctors of physical therapy at First Choice Physical Therapy.
Address: 2300 Jenks Ave, Lynn Haven, FL 32444
(850) 248-1600
Email:  [email protected]
The Best Therapists! We have Seven Doctors of Physical Therapy, Six Physical Therapy Assistants, and Two clinics in Bay County. We love our patients and it shows every time you come to therapy. Meet our Team.
Choose Us
Make Us Your First Choice
Life is full of choices. Making a choice involves making a decision by judging the merits of multiple options and selecting one of them that best serves your purpose. There are many important decisions that will be made in a lifetime–marriage, school, career and health to name a few. However, without your health, making choices in life becomes increasingly difficult–if not impossible. That's why choosing your healthcare provider is a "Big Deal". With so many choices available, how do you decide? You research! Finding the provider with whom you will trust your care, step. I highly encourage you to research First Choice Physical Therapy.
Videos to Help You Get Better
Visit our
YouTube channel
to select and view videos we have created to help you stay at your physical best. As we grow older our bodies naturally cannot perform everything we could do at the younger stages of our lives. No matter what stage you are in now we have simple exercises that will help you stay at the top level for your body. Your goal should always be to stay mobile, with tone muscles and good balance. When you have an injury that is keeping you from being your best come see us. When you are only a little off your game check out our channel and find the right video to get you back on top!
An all-around athlete, Ashley has played sports all 4 years at Arnold High School on Panama City Beach. She recognized early on that she was having pain in both knees that needed to be addressed if she would be able to keep playing. Her main sport is Softball, but also played basketball, volleyball and ran track. Knowing how important therapy was for her over the years, Ashley has decided to pursue a career in physical therapy, to help others the way she was helped. Way to go Ashley!
Kennan Kish is a right-handed pitcher who is a former Florida Gator and currently with the Cincinnati Reds minor league organization. He had a Tommy John revision surgery and came to First Choice Physical Therapy at our Panama City Beach clinic for his rehab with Dr. Brannon Chester. He is very happy with his results and is ready to go back for spring training with no reservations. Good luck Kennan!